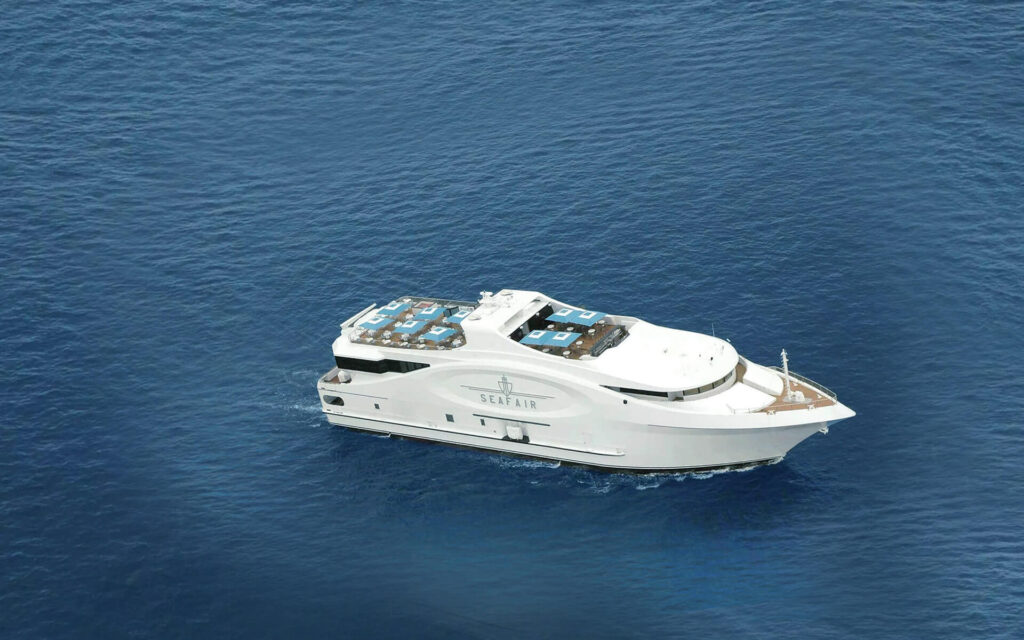 New Year's Eve 2022 Miami Fireworks Party Cruise - Seafair Mega Yacht
Best view of midnight Miami Orange rise and spectacular fireworks awaits on this New Year's Eve 2022 aboard $40M SeaFair MEGA Yacht Party Cruise!

Best view of midnight Miami Orange rise and spectacular fireworks awaits on this New Years Miami Party Cruise aboard $40M SeaFair MEGA Yacht
VIP Nightlife & Miami Nightlife
present... 
The Ultimate Miami NYE 2022
GATSBY'S YACHT
Midnight Fireworks Viewing Party
New Year's Eve on the Bay!
Miami's most exclusive and glamorous New Year's event is aboard the internationally acclaimed SeaFair. The best view of the midnight Miami Orange rise and spectacular fireworks awaits on the Seafair SkyDeck.
Why settle for an average party boat, when you can live it up on a luxury mega yacht? After all, it's New Year's Eve; and you deserve only the best!
Celebrate 2022 in style aboard the SeaFair Miami; a 222-foot, $40M uber lux mega yacht designed by the internationally acclaimed yacht designer Luis De Basto.
Times are subject to change pending Miami Curfews. Please make sure Eventbrite is marked as safe sender, you'll only be contacted via email.
Current Schedule & Perks are as follows:
Early Check-in: 8:45 PM
Platinum Admiral VIP Boarding: 9:00PM
Golden GA Boarding: 9:15 PM
Gate Closes at 10:15 PM (Do Not Be Late - No Refunds)
Cruise: 10:30 PM - 2:00 AM
Bayfront Fireworks Show at Midnight
Disembark: 1:45 AM - 2:00 AM
Premium Open Bar
Premium Brands for ALL
Top Shelf Cocktails for VIPs 
Multiple Elegant Bars on Every Deck
Welcome Bubbles and New Years Toast
LIMITED RESERVED VIP TABLES
INCLUDE EXCLUSIVE AREAS WITH RESERVED SEATING
WITH 3 BOTTLES OF DOM PERIGNON TO TOAST AT MIDNIGHT
PRIVATE SERVERS & SECURITY 
Delicious Gourmet Food
Festive hors d'oeuvres
Raw seafood bar
A culinary array of global cuisine
Dazzling Entertainment
Live DJ entertainment on multiple levels
Spectacular Skydeck fireworks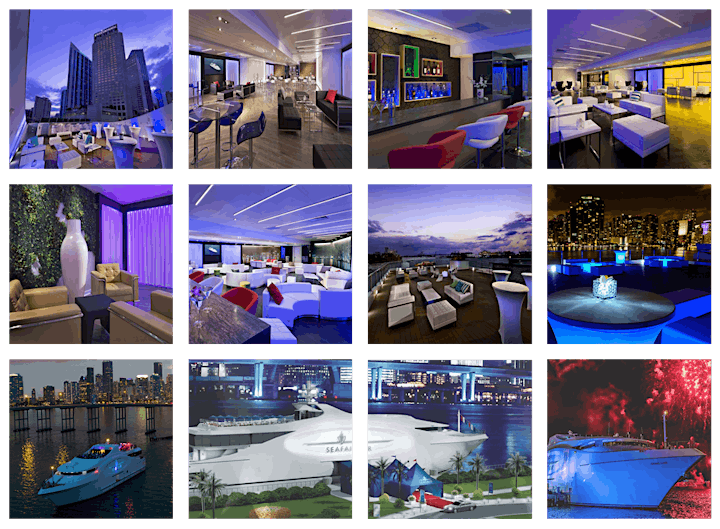 Some Info to Know
Dress Code: Strict dress code enforced. Upscale, semi-formal, cocktail attire required for entrance. Men will not be allowed to wear ball caps, plain t-shirts, hi-tops or tennis shoes. If you do not meet the dress code, you may NOT be allowed to board and no refund will be given.
Parking: The SeaFair Miami is docked at Bayfront Park South Dock at Chopin Plaza in downtown Miami adjacent to the InterContinental Hotel. Convenient self parking is available along Chopin Plaza, Biscayne Boulevard, and in multiple parking garages. Downtown Metromover is within walking distance.
Please Note: This party cruise is expected to follow CDC Guidelines with social distancing and masks if & when necessary. All our staff will have necessary PPE for excellent clean service. If this event is canceled due to Covid-19, you will be refunded.
Fireworks may be canceled as well. There will be no refunds if fireworks are not held due to Covid-19. Times may change as well. You'll be notified if the cruise is earlier and no refunds will be granted unless event is canceled.
Disclaimer: If there are incremental weather conditions that cause the ship to not be able to sail safely, the party will still be held on the indoor levels dockside and the event will not be canceled. There will be no refunds unless event is canceled entirely.
Please let me know: https://www.seafairmiami.com/terms-of-service/
Questions? Please email: info@vipnightlife.com. We look forward to celebrating with you responsibly.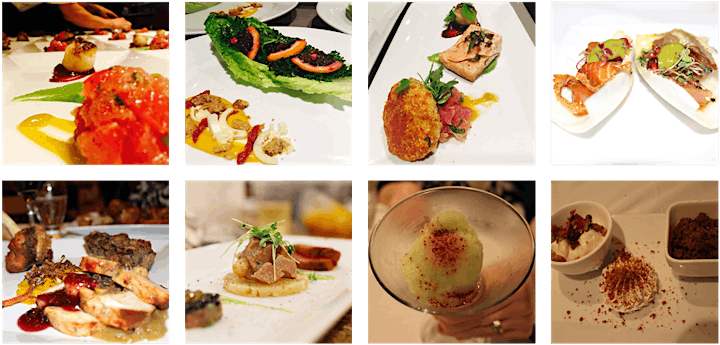 VIP Nightlife New Year's Eve Menu
12/31/2021
TRAY PASSED HORS D'OEUVRES
 •  Vegetable Spring Roll
 •  Broccoli Quiche
 •  Chicken Sate
 •  Beef Churrasco
 •  Scallops in Bacon
 •  Coconut Shrimp
GA & VIP APP STATIONS
CHEESE DISPLAY
International Artisanal Cheese Display:
Triple Crème French Brie, Herbed Boursin, Porter Cheese, Spanish Manchego, Maytag Blue, Humboldt Fog
Fresh and Dried Fruits, House made Chutney
Served w/ Assortment of Breads
BRUSCHETTA BAR
Prosciutto, Pear and Asiago Salad, Herb Crostini Tuna Tartare, Mustard, Caper and Lemon Maine Lobster, Citrus Tarragon Mayonnaise, Fennel Pollen
THE TASTE OF ASIA DIM SUM BAR
Beef and Shitake Shumai, Shanghai Pot sticker and Chicken Dumpling, Shrimp Hargow, Fresh Vietnamese Vegetable Spring Roll Accompaniments: Chili Sauce, Soy Vinaigrette
VIP-ONLY APP STATIONS (Placement / 3rd Deck ONLY)
SERRANO FERMIN DE BELLOTA
Alberca, Salamanca, Spain |Using Corta Fiambre from ITALY
Olive Oil Roasted garlic, Marinated smear ripe tomato
Sea Salt, Spiced Olives, Shaved Manchego Cheese Rustic Breads, Crisp Baguette, Grissini. include Antipasti Display Olive Oil, Roasted Peppers, Citrus Artichokes, Spiced Olives, Grilled Asparagus Boursin, Manchego, Drunken Goat Cheeses Parma Ham, Cured Chorizo Sopressata, Duck Prosciutto Rustic Breads, Crisp Baguette, Grissini, Olive Rolls
GRAND LUXE RAW BAR
Chilled Jumbo Prawns, Jack Daniels Cocktail Sauce
Crab Claws, Cold Water Oysters, Tuna tartar with seaweed salad martini and ceviche (Mustard Sauce Mignonette, cocktail sauce, lemon garnish)
GA & VIP CARVING STATIONS W/ ATTENDANTS
Will be duplicated on multiple levels for all guests. 
DELUXE BREAD & SALAD STATION
Champagne vinaigrette
Farm Greens Salad, Honey-Caraway Root vegetables, almond truffle Dressing
Artisan Market Bread Station
Cont.
CARVING OF ROASTED NY STRIPLOIN
Marinated in Garlic & Herbs
Red Wine Demi-Glace & Creole Mustard
SOUTH EAST STYLE ROASTED WHOLE CHICKEN
Mojo Whole Chicken marinade, Stuffed w/ lemon grass, cumin, onion & fresh garlic
BANANA LEAF WRAPPED SALMON
Cream of Coconut scented lemon grass, kafir lime leaves and Cilantro, Mango salsa
VEGETABLE NAPOLEON MEDLEY
Yellow squash, Zucchini, Roasted carrot, Piquillo peppers, eggplant, fresh herbs & olive oil
MUSHROOM RAVIOLI
Truffle Scented mushroom stuffed ravioli w/ cream sauce
GOURMET DESSERTS
Parisian Macaroons
classical French tradition, sandwiching two petite cookies together with a flavored filling
Exotic Assorted Pastries Bites
Key lime Tart, Mango Opera, Passion Flan, Carrot Spice Cake, Vanilla Bean Cheesecake, Red Berry Opera, Pistachio Cremux Tart & Coconut Tart
PURCHASE POLICY
NO REFUNDS OR EXCHANGES. ALL SALES FINAL: There are NO REFUNDS, NO CANCELLATIONS, no credits, no exchanges, and no transfers after the order has been made.
Credit Card & ID:
You must present the original credit card used to purchase the ticket and a valid Government Issued Photo Identification (along with your e-tickets that have been emailed to you via Eventbrite when your order was placed): the name on both the credit card and ID match the name on your purchased tickets, in order to gain entry to the event. If the name on the Credit Card and/or ID does not match the tickets, or if you do not have both the credit card used to make the purchase and government issued identification, you will be denied entry to event without a refund.
Support:
If you encounter a problem at the event, you must file a complaint with Promoter within 5 calendar days following the date of the event; failure to contact Promoter within the 5-day period will be a complete waiver of your right to request compensation whether monetary or otherwise. If you need customer support, Promoter's email is info@vipnightlife.com.
Purchase Policy:
By placing an order, you are confirming that you received this policy and are agreeing to abide by the clauses within. This Purchase Policy is a binding contract between you and event Promoter.
Event Booking:
By purchasing a ticket, package or reservation you're entitled to entry to event you're purchasing it for. At the time of your order, Eventbrite will place an order for your ticket(s) in the Promoter's ticketing system, reducing the number of tickets available for the chosen event. Before purchasing your ticket(s) we urge you to confirm the title, time and location of the event(s) you wish to attend, as there are no refunds. Each event has a definitive date, start time and end time. If you do not show up to the event, you understand that you are forfeiting your ticket(s) and therefore your ticketing fee (the entirety of what you paid) will not be returned to you. If you do not attend your event, you're still 100% financially liable for your purchase. If you cannot attend event, you will not receive refund.
Alcohol, Seating, Food:
There is no seating or food; unless otherwise stated in event listing. If food is provided; then it is a 'first come, first served basis,' unless the event listing or ticket description clearly states that it is available for a specific time period or for entire event duration. If the event description states there is food for any period during the event, and there is no food available when you choose to eat, please know that the venue is replenishing the food. If you have waited for an extended period of time and the food has not been replenished, please contact venue management at the event for an estimated time that the food will be ready for you. If there are periods of time when food is not available for you due to the venue replenishing said food, no matter how long the wait(s), such is not grounds for a refund. Please contact us with any questions.
Event Cancellations:
If the event is canceled you will receive a refund for the face value of the ticket.
No Refunds:
Unforeseen circumstances beyond promoter's control will not be grounds for a refund, including but not limited to the following: local or national weather conditions, natural disasters, waiting in lines, extended waits in lines, family emergencies, medical emergencies, employment issues including layoffs, traffic, parking, public or private transportation issues, etc. If you purchased for the incorrect date, location, event, etc, promoter is not obligated to provide a refund, credit, exchange or transfer. If cancellation or transfer request is approved, promoter reserves the right to charge a $10 administrative fee for its time, in addition to charging a $10 restocking fee per ticket if tickets are placed back on sale. Promoters, Venue Owners, Venue Management, Security, Event Staff, and other agents of the event, have the right to refuse entry to any ticket-holder, without a refund, for any reason at their discretion , including but not limited to: disorderly behavior, failing to comply with the rules of the venue, incorrect attire, intoxication, venue capacity, breach of security, and other restrictions. Ticket-holder is aware that the Venue and Talent are subject to change without notice, which are not grounds for a refund. Ticket-holder is aware that amenities promised by Promoter are not guaranteed, and are not grounds for a refund, including but not limited to: VIP amenities, drink specials, drink tickets, gifts, express entry, special areas, celebrity guests, etc. Dissatisfaction with any aspect of the event is not grounds for a refund, including but not limited to: music, DJ(s), decorations or lack thereof, party favors or lack thereof, beverages or lack thereof, alcohol selection, bar staff, food availability and selection, fellow patrons/attendees, venue staff, event staff, security, performances, ambiance, amenities, venue, check-in process, seating or lack of seating, wait in lines, emergency closures of event, emergency return of boats or yachts, delayed commencing of events, early ending of events, public amenities such as fireworks or public performances or the lack thereof, line of sight of public amenities such as fireworks or public performances being blocked by trees, buildings, boats, people, and/or other things, etc.
Release of Liability:
By purchasing the tickets through Eventbrite, you hereby release and forever discharge Promoter from any liability or claims for damages that may arise as a result of your attendance at, and voluntary participation in, the event(s), including claims for personal injury, or damage to personal property, or any other claims for negligence on the part of the event's Promoter. By purchasing the tickets through Eventbrite for this event, you hereby release and forever discharge event Promoter, and their officers and agents, from any liability or claims for damages that may arise as a result of your attendance and participation at the event(s). It is hereby understood that the purchase of tickets by you and your participation in the events shall not be construed as an assumption on the part of Promoter of responsibility, liability, or control of the events.
Indemnity:
By Purchasing tickets for this event, ticket purchaser agrees to indemnify and hold harmless event Promoter, said entities officers, owners, employees, and agents, from and against all claims, damages, losses and expenses, including reasonable attorney's fees arising out of or by reason of complying with this Indemnity Clause. Ticket purchaser, their heirs, executors, administrators, successors and assigns, hereby release, remise, and forever discharge event Promoter and its entities owners, officers, employees and agents, from all manner of actions, causes of actions, suits, debts, judgments, executions, claims, demands whatsoever, known or unknown, in law or equity, which ticket-holder has ever had, now have, may have, or claim against event Promoter.
Collections & Legal Action Against Debt:
Once you make a purchase, if those funds are removed from the Promoter's account and given back to you, you owe the Promoter that money back, plus applicable fees as outlined below. If you owe money to Promoter, Promoter reserves the right to take legal action against you and/or send you to collections for the recovery of said debt. If you are sent to collection or there is legal action taken against you, you are fiscally responsible for any and all legal costs and fees, directly associated and/or indirectly associated, with recovering the debt owed by you. Promoter's collection's agencies reserve the right to negatively affect your personal credit score until your debt is paid. Once an account has been placed in collections, the only way to get yourself out of Collections is to pay the debt owed by you to the collections agency.
Arbitration Agreement:
In the event there are any legal disputes against Promoter, by agreeing to this Purchase Policy, you agree that such disputes will be arbitrated. You further agree that the location of arbitration will be set in Los Angeles County, California.
Severability:
If any clause, aspect, part or provisions of this Purchase Policy is found to be null, void, illegal or otherwise unenforceable, the rest of this Purchase Policy remains in full binding effect, and the unenforceable provision(s) shall be deemed modified to the limited extent required to permit the enforcement of said clause that required modification and of the agreement as a whole.
Thank you for your purchase!