Malaspalabras Records Launch Party | Elevate Nightclub LA
Join Chris Perez and Malaspalabras Records for a night of music and spirits on Friday, August 25th, at Elevate Lounge in Downtown Los Angeles!!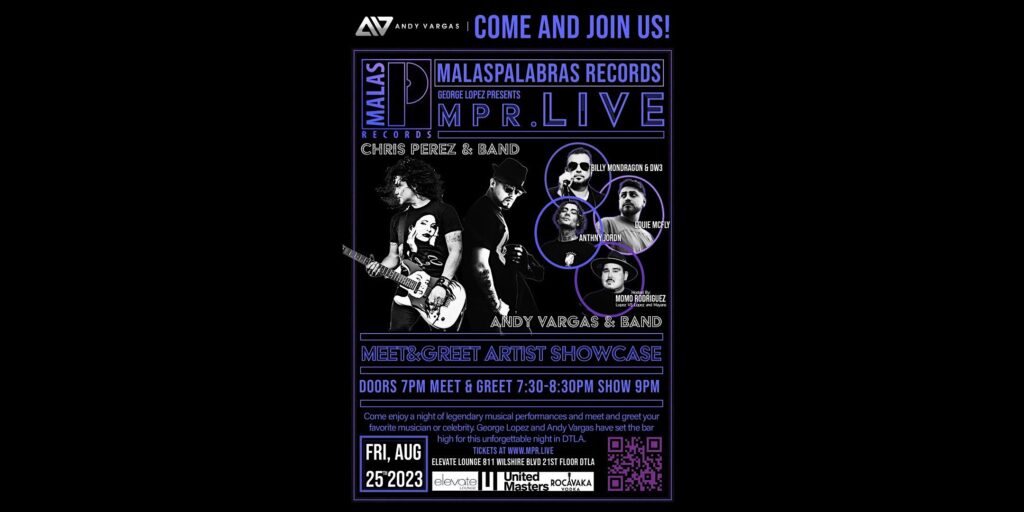 Join Chris Perez and Malaspalabras Records for a night of music, and spirits at Elevate Lounge DTLA on Friday, August 25, at 7:00pm.
George Lopez & Andy Vargas present ...
Malaspalabras Records Launch Party
Fri, Aug 25, 2023, 7:00 PM - 12:00 AM PDT
Don't Miss - Andy Vargas - Chris Perez and DW3 Live!!! - 21st Floor DTLA ...
at Elevate Lounge - 811 Wilshire Blvd (21st Floor) in Downtown Los Angeles
Get ready to groove to the soulful tunes of Andy Vargas, whose mesmerizing voice has captured hearts around the world. His dynamic stage presence and electrifying performance will have you dancing all night at Elevate Lounge (21st Floor) in Downtown Los Angeles, on August 25th, at 7:00 pm.
Hosted By: Andy Vargas & Momo Rodriguez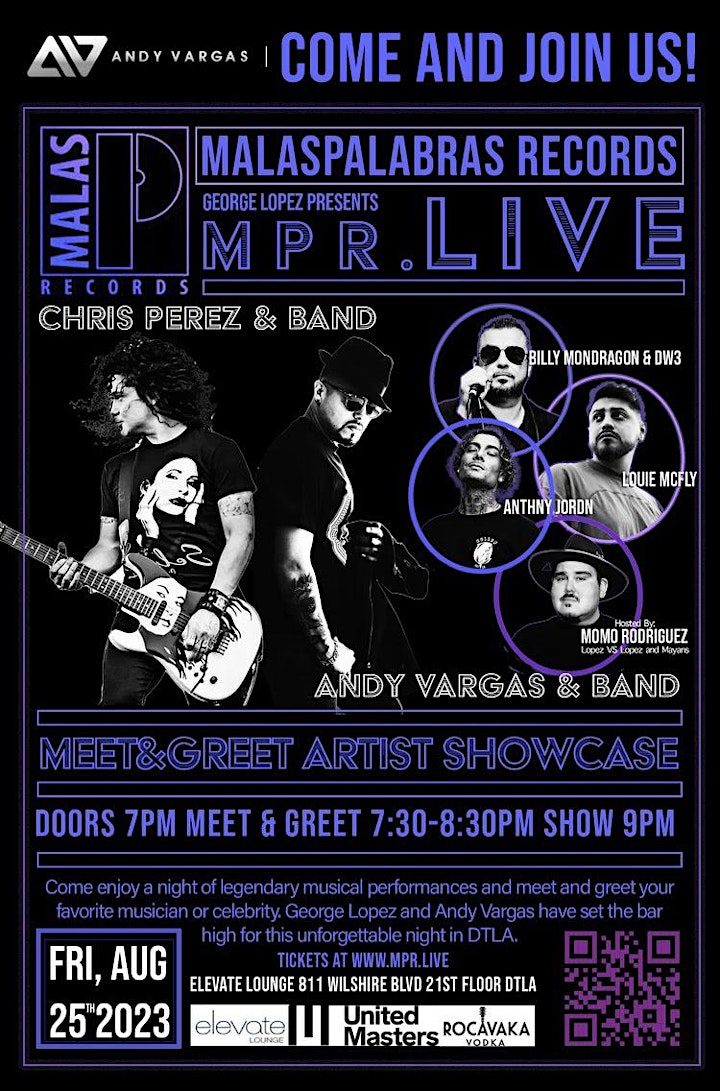 Joining the lineup is the legendary Chris Perez, whose masterful guitar skills have graced stages with the iconic Selena. Prepare for an unforgettable set that combines Latin rhythms with rock influences, creating a musical fusion like no other.
But that's not all! DW3 will be adding their own magic to the night, delivering a smooth blend of R&B, funk, and soul that will keep the energy soaring from start to finish.
Tickets for this extraordinary night are selling fast, and we don't want you to miss out. Secure your spot now and be a part of an evening that promises incredible music, breathtaking views, and an atmosphere that will leave you on cloud nine.

KNOW BEFORE YOU GO
All Sales Final: no refunds or exchanges. Prices are subject to change while supplies last.
Ticket includes 3 legendary songs from Heber, Louie Mcfly, and Billy Mondragon & DW3. * Once you have completed your purchase, you will receive a link to your wallet with the ticket inside.
Age Requirement: Must be 21+ to participate with valid 21+ photo ID to enter.
Doors: 7pm – 12am
Meet and Greet: 7:30pm - 8:30pm
Showtime: 9pm
Disclaimer: Meet & Greet is from 7:30pm to 8:30pm ONLY, so arrive early and don't miss your chance to meet Chris Perez and other MPR artists!!
Dress Code: Dress to Impress!
Event Location: Elevate Lounge is located (21 floors up in a high-rise building) above the Financial District of Downtown LA; at 811 Wilshire Blvd 21st floor, Los Angeles, 90017 - Get directions.
Parking: Valet Parking on Lebanon Street $12 Per Vehicle.
Plan Your Parking Solution Ahead of Time with this interactive parking map of Downtown Los Angeles. Search by cost & location and choose your preferred parking experience. **
Please party responsibly and don't drink & drive — use ride share apps (e.g. Uber or Lyft), taxi or designated driver company to get home safely. OR opt to stay at local hotel.